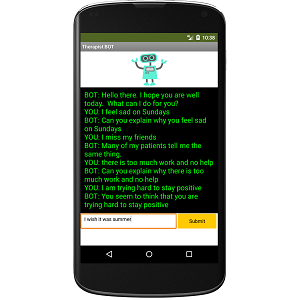 Therapist Bot Tutorial
Difficulty: intermediate Lesson Type: tutorial Subject: computer scienceGrade Level:
Can an app on your phone be your next therapist? Our friends at YR Media reported on apps that use artificial intelligence to power therapy bots in their news story Could Your Next Therapist Be Your Phone? This tutorial will show you how to make your own therapist bot app using App Inventor.
This project is a vastly simplified version of a famous program called ELIZA that was developed at MIT in the early 1960s by Professor Joseph Weizenbaum. Eliza won a Foundational Peabody Award in 2022. You can watch a video about the significance of the award. In 2021, The Peabody Awards introduced the expansion of its award categories to recognize storytelling achievements across interactive and immersive categories.