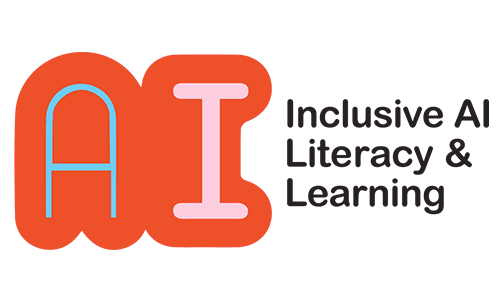 We're RAICA a team of MIT's Artificial Intelligence experts, researchers, curriculum developers, and project-based learning aficionados on a mission to set the standard for how middle schoolers learn about AI.  We aim to grow students' skills as informed consumers and ethical producers of AI tools and technology and to foster their confidence to change the world through computational action. Our curriculum is project-centered, which means students will produce authentic learning artifacts by the end of each module and their learning will be driven by exploring and doing.  They will progress through their projects using design thinking steps, and along the way they will deepen their understanding of AI literacy, computational action, and ethical thinking. Please click below if you're an educator interested in piloting at your school.
Children today are more than digital natives who grow up immersed in technology, they are increasingly becoming AI natives, as well. They interact with AI-powered products and services pervasively in social media, digital assistants, search engines and smart devices often without being fully aware of AI's presence, how it works and shapes their lives and their futures. Inclusive AI Literacy and Learning — a groundbreaking new research program at MIT — aims to prepare students with an important foundation of AI awareness, skills, critical thinking and attitudes to become responsible users and makers of AI-enabled technologies. Through our work, we hope children will also learn to become ethical and empathetic designers and implementers of AI-enabled solutions and will learn how to respond effectively to its many opportunities and risks.
A key mission of this Program is inclusion, which is defined on three dimensions:
Accessibility: the learning experiences should offer multiple modes of engagement and expression to be accessible to students of diverse cognitive and physical abilities;
Equity: the curriculum seeks to serve students from many cultural, ethnic, and socioeconomic backgrounds whose needs may otherwise be marginalized, ignored or excluded; and
Adaptability: curriculum and activity design should include modular materials that may be adapted to a broad range of learning environments, resources availability, teacher-to-student ratios, and levels of family involvement.
In other words, we aim through our work to encourage children of all backgrounds and abilities and empower their teachers, parents, caregivers and peers with appropriate tools and methodologies to create and sustain a nourishing and empowering learning experience.
Our research Program currently offers two main areas of study for their impact on children's learning:
How does this inclusive AI curriculum prepares students to be responsible, AI-aware community members?

We are currently focusing on middle school and we call this curriculum Responsible AI for Computational Action (RAICA). Initially, we will develop this curriculum along with supporting hands-on learning projects, tools, technologies, and teacher professional development for middle school. Over time, we plan to extend this to primary, middle and secondary schools, and will make our work available for broad use worldwide.

How might child-friendly intelligent learning companion technologies support learning by personalizing and adapting to specific learning needs?

We focus on the application of AI in early childhood for communication and literacy development using emotionally-engaging social robots.
Inclusive AI Literacy for Middle School
To develop and implement RAICA and to support our inclusivity mission, we are eager to be collaborating with Dubai Heights Academy, an inclusive international school in the UAE along with a variety of middle schools in the U.S. that all specialize in supporting children with a wide range of learning needs. Emphasizing support for a diversity of learners with a range of interests and learning needs (cognitive, social, etc.), we expect to prepare students to create meaningful projects with AI technologies through ethical design and implementation practices. Employment opportunities for those with competence in innovative technologies and creative and critical thinking abilities are very promising across a variety of industries. The future holds a wide range of opportunities for those with skills in computational thinking, artificial intelligence, human-centered computing, and design thinking.
Personalized Learning Companions for Early Childhood Education
In this Program we will also be exploring and investigating how AI-enabled technologies strengthen young children's socioemotional and language learning and development. Specifically, we will be exploring how socially interactive robots support personalized learning in early childhood (focusing on children 4 to 6 years old) for communication and early literacy skills. We are working with Dubai Heights Academy, as well as with schools in the U.S. including underserved schools.
2020-2021 school year at Dubai Heights Academy
This academic year, beginning later in the first term of 2020, we are introducing Y6 and Y7 students at Dubai Heights Academy to learning modules on computational thinking. Specifically, we are bringing the CoolThink curriculum to DHA students. CoolThink was developed jointly over the past three years by MIT, the Education University in Hong Kong, the City University of Hong Kong and the Hong Kong Jockey Club and has been rigorously evaluated by the Stanford Research Institute.
Frequently asked questions